Pharma Franchise In Uttar Pradesh – Do you have some knowledge of Pharma sector and want to start your own business in this sector? You can invest in pharma franchise in Uttar Pradesh. Getting a pharma franchise is on the rise these days. You can get the advantage and start your own business to earn lucrative amount of money.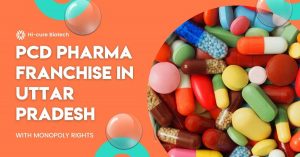 It would be very easy for you to get pharma franchise if you are already familiar with pharmaceuticals. A Panchkula based company Hi-Cure Biotech is offering PCD pharma franchise Uttar Pradesh. Propaganda cum Distribution model is growing rapidly because it provides good return on investment. PCD means you have right to market company's product in their name.
So many companies are using this model to market their product. It is necessary for you to choose the right company so that you will also benefit by getting pharma franchise. Hi-cure biotech is one of the best companies to work with. We are not only providing franchise in Uttar Pradesh but all over India.
---
How To Get Pharma Franchise In Uttar Pradesh
There are certain steps that you need to take to get pharma franchise in Uttar Pradesh.
First, you must have in-depth research about the market. If you are not updated about it, then you might not get the result that you wanted.
If you are sure you want to get started with pharma business, next step is to inspect the company that you are going to work with. You must check out the history and reputation of the company because this will decide your business success.
You can ask company about their products. You may request samples from the company and check if the product is made up of high-quality or not. If you are satisfied with the products, ask them for products and price lists.
Next is to check the payment method. Some companies prefer advance payment. Ask them how much payment you have to do in advance and the after process.
If you are clear with all the procedure, you are ready to sign off the deal.
To check out products and services provided by Hi-cure Biotech, give us a call on +91-9023639358 or mail us at hicurebiotech@gmail.com. Our team will answer your query.
---
Why Choose Hi-cure Biotech for pharma franchise in Uttar Pradesh
HI-cure Biotech is becoming a leading name in pharma industry. We manufacture wide range of allopathic and ayurvedic medicines. One of the benefits is that you can get pharma franchise in Uttar Pradesh at low investment and even on monopoly bases. We are ISO certified company and our products are GMP certified.
Our product range include:
Antibiotics
Gastro PPI
Ortho
Gynae
Cardiac
Neuro & Psychiatrist
Ayurvedic
AOXY-CV 625 LB
TABLET
ANTIBIOTIC
AMOXICILLIN 500 MG + CLAVULANIC ACID 125 MG + LACTIC ACID
10*1*6
AOXY-CV 625
TABLET
ANTIBIOTIC
AMOXICILLIN 500 MG + CLAVULANIC ACID 125 MG
10*1*6
AOXY-500LB
TABLET
ANTIBIOTIC
AMOXICILLIN 500 MG +LACTIC ACID
10*10
AOXY-D LB
TABLET
ANTIBIOTIC
AMOXICILLIN 250MG + DICLOXACILLIN 250MG + LACTO BACILLUS
10*10
AOXY-CV
DRY SYP
ANTIBIOTIC
AMOXYCILLIN 200 MG + CLAUVANIC ACID 28.5 MG
30 ML
AOXY-CV DUO
DRY SYP
ANTIBIOTIC
AMOXYCILLIN 400 MG + CLAUVANIC ACID 57 MG
30 ML
AOXY-CV
DROPS
ANTIBIOTIC
AMOXYCILLIN + CLAUVANIC ACID
10 ML
AZIMO-200
SUSP.
ANTIBIOTIC
AZITHROMYCIN 200 MG
30 ML
AZIMO-250
TABLET
ANTIBIOTIC
AZITHROMYCIN 250 MG
10*6
AZIMO-500
TABLET
ANTIBIOTIC
AZITHROMYCIN 500 MG
10*3
CEFTRIP-250
TABLET
ANTIBIOTIC
CEPHLALEXIN 250 MG
10*10
CIXCEF-AZLB
TABLET
ANTIBIOTIC
CEFIXIME 200 MG + AZITHROMYCIN 250 MG+ LACTOBACILLUS
10*10
CIXCEF-100 DT
TABLET
ANTIBIOTIC
CEFIXIME 100 MG DISPERSIABLE TABLETS
10*10
CIXCEF-200 DT
TABLET
ANTIBIOTIC
CEFIXIME 200 MG DISPERSIABLE TABLETS
10*10
CIXCEF-200 DT LB
TABLET
ANTIBIOTIC
CEFIXIME 200 MG DISPERSIABLE TABLETS + LACTOBACILLUS
10*10
CIXCEF-CV
TABLET
ANTIBIOTIC
CEFIXIME 200 MG + CLAVULANIC ACID 250 MG
10*6
CIXCEF-O
TABLET
ANTIBIOTIC
CEFIXIME 200 MG + OFLOXACIN 200 MG
10*10
CIXCEF
DRY SYP
ANTIBIOTIC
CEFIXIME 50 MG
30 ML
CIXCEF-100 LB
DRY SYP
ANTIBIOTIC
CEFIXIME 100 MG + LACTIC ACID WITH WATER
30 ML
CIXCEF-CV
DRY SYP
ANTIBIOTIC
CEFIXIME 50 MG + CLAVULANIC ACID 31.25 MG
30 ML
CIXCEF-O
DRY SYP
ANTIBIOTIC
CEFIXIME 50 MG + OFLOXACIN 50 MG
30 ML
HYME-250
TABLET
ANTIBIOTIC
CEFUROXIME AXETIL 250 MG
5*6
HYME-500
TABLET
ANTIBIOTIC
CEFUROXIME AXETIL 500 MG
5*6
HYME-CV
TABLET
ANTIBIOTIC
CEFUROXIME AXETIL 500 MG+CLAVANIC ACID
5*6
HYME
DRY SYP
ANTIBIOTIC
CEFUROXIME AXETIL 125 MG
30 ML
LBDOX
TABLET
ANTIBIOTIC
DOXYCYCLINE 100 MG + LACTOBACILLUS
10*10
LEVOIC-500
TABLET
ANTIBIOTIC
LEVOFLOXACIN 500 MG
10*10
LEVOIC-750
TABLET
ANTIBIOTIC
LEVOFLOXACIN 750 MG
10*10
LEVOIC-OZ
TABLET
ANTIBIOTIC
LEVOFLOXACIN 125 MG + ORNIDAZOLE 125 MG
10*10
LINVIZ-600
TABLET
ANTIBIOTIC
LINZOLID 600 MG
10*1*6
OXFLIN-200
TABLET
ANTIBIOTIC
OFLOXACIN 200 MG
10*10
OXFLIN-OZ
TABLET
ANTIBIOTIC
OFLOXACIN 200 MG + ORNIDAZOLE 500 MG
10*10
NAPDEL-D
TABLET
ANTIBIOTIC
NAPROXEN 500MG + DOMPERIDONE 10MG
10*10
XEFPOD-100 DT
TABLET
ANTIBIOTIC
CEFPODOXIME PROXETIL 100 DT
10*10
XEFPOD-200 DT
TABLET
ANTIBIOTIC
CEFPODOXIME PROXETIL 200 DT
10*10
XEFPOD-CV
TABLET
ANTIBIOTIC
CEFPODOXIME PROXETIL 200 MG + CLAVULANIC ACID 125 MG
10*1*6
XEFPOD-O
TABLET
ANTIBIOTIC
CEFPODOXIME 200 MG + OFLOXCAIN 200 MG
10*10
XEFPOD-50
DRY SYP
ANTIBIOTIC
CEFPODOXIME PROXITIL 50 MG(WITH WATER)
30 ML
XEFPOD-100
DRY SYP
ANTIBIOTIC
CEFPODOXIME 100 MG(WITH WATER)
30 ML
XEFPOD-CV
DRY SYP
ANTIBIOTIC
CEFPODOXIME PROXETIL 50 MG + CLAVULANIC ACID 31.25 MG
30 ML
XEFPOD
DROPS
ANTIBIOTIC
CEFPODOXIME 25 MG DROPS
10 ML
EXLIN-A
SYRUP
ANTIHISTAMINIC
TERBUTALINE SULPHATE 1.25 MG + AMBROXOL HYDROCHLORIDE 15 MG + GUAIPHENESIN 50 MG + MENTHOL 0.5 MG
60 ML
EXLIN-A
SYRUP
ANTIHISTAMINIC
TERBUTALINE SULPHATE 1.25 MG + AMBROXOL HYDROCHLORIDE 15 MG + GUAIPHENESIN 50 MG + MENTHOL 0.5 MG
100 ML
EXLIN-L
SYRUP
ANTIHISTAMINIC
AMBROXOL 30 MG + GUAIPHENESIN 50 MG + LEVOSULBUTAMOL 1
100 ML
EXLIN-G
TABLET
ANTIHISTAMINIC
BROMHEXINE HYDROCHLORIDE 8MG + GUAIPHENESIN 50MG +PHENYLEPHRINE HYDROCHLORIDE 5MG + CHLORPHENIRAMINE MALEATE 2MG + PARACETAMOL 325MG
2*5*10
CUFLIN-D
SOFTGEL CAP.
ANTIHISTAMINIC
DEXTROMETHORPHAN 10 MG + PHENYL EPHERINE 5 MG + CPM 2 MG
10*10
CUFLIN-D
SYRUP
ANTIHISTAMINIC
DEXTROMETHORPHAN 10 MG + PHENYL EPHERINE 5 MG + CPM + MENTHOL 0.5 MG
60 ML
SKOF
SYRUP
ANTIHISTAMINIC
DEXTROMETHORPHAN 5 MG + HBR 50MG + GUAIPHENESIN 50MG +AMMONIUM CHLORIDE 60MG + CPM 2.5 MG
100 ML
DEO-M
TABLET