Choose Hi- Cure Biotech as the Best WHO GMP Certified Third Party Manufacturer in India
WHO GMP Certified Third Party Manufacturer in India- Get WHO GMP Certified Third Party Manufacturer in India which is responsible for providing Best PCD Pharma Franchise in the field of Pharmaceuticals. The range of products contains various varieties such as tablets, syrups, capsules and injectable and eye drops etc. We are one of the leading pharmaceutical companies for franchise.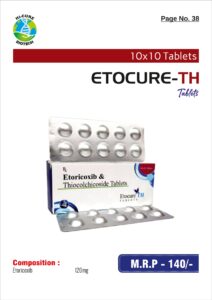 You can make profits on your own. By getting Monopoly rights from our top PCD Pharma franchise company you will be your own boss and can perform without any competition and work pressure. By getting the liberty of doing business in your own territory you will be a successful business person in just countable days. We are pleased to introduce you as our representative and the dealer also as we believe in innovations and new marketing strategies. The franchise model designed by our team of sales and marketing is highly successful across the country. By being the partner of a successful brand with the professional methods you will become an entrepreneur of highly earning business.
Being a WHO GMP Certified Third Party Manufacturer in India we are a fully integrated organisation which is performing great research and initiatives every year to develop the condition of franchise business owners in our country. Entire range of products being manufactured at our end is highly qualitative and affordable so that every citizen of the country can take benefits from this.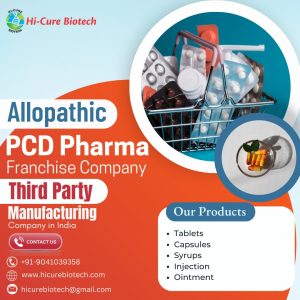 The traditional products we are producing are inspired by world class manufacturing units so that the outstanding Branded Pharma Franchise can serve you in PCD Pharma. The manufacturing of every product takes place by focusing on guidelines of ISO, GMP and WHO. We do not compromise with any sort of GMP standards and every division which is associated with us believes in generating the best pharmaceutical product.
Product List of WHO GMP Certified Third Party Manufacturer in India
In India, Hi- Cure Biotech is ISO 2008: 9001 certified. The medicines manufactured in our Company are verified as well as approved by the WHO, DCGI, along with GMP organisations. Therefore,  We manufacture the best medicines with high quality medications using accurate formulations as best WHO GMP Certified Third Party Manufacturer in India. Therefore, that is widely known by our name in the medical industry. Our products are in the market are categorised as:
Syrups & Antibiotics Range
Nutraceuticals & Paediatric Range
Gynae products
PPI & GASTRO Range   
Mouthwash as well as Sachet Range
Cardiac products
Soft gelatin in addition to Gum Paint
Oral Paste & Softgel
Some known brands of our company in the market along with their composition:
Tablets
Astofen

Aoxy

Biocus

Azimo

ACECLOFENAC 200 MG + PARACETAMOL 325 MG + THIOCOLCHICOSIDE

AMOXICILLIN 500 MG + CLAVULANIC ACID 125 MG + LACTIC ACID

ZINC GLUCONATE 20 MG + PREBIOTIC 417 MG + FRUCTO OLIGOSACCHARIDE 25 MG

AZITHROMYCIN 200 MG

Capsules
C2 Cal

Astofen Cap.

CALCIUM CITRATE 1000 M + MAGNESIUM 100 MG + VITAMIN D3 200 IU + ZINC 4 MG

ACECLOFENAC 100 MG + PARACETAMOL 325 MG + CHLORZOXAZONE 250 MG

Injections
Hicam
PIROXICAM INJ
Syrups
Apro

Azimo Syrp

CYPROHEPTADINE HYDROCHLORIDE 2 MG + TRICHOLINE CITRATE0.275 GM

AZITHROMYCIN 500 MG

Powders
Biocus
PROBIOTIC STRAINS & PREBIOTIC (FOS) + ZINC 20 MG
Dedicatedly working with
Distributors
Retailers
Medical representatives
Wholesalers with good contacts
Contact us for WHO GMP Certified Third Party Manufacturer in India  or any other part of PAN India
Company Name: Hi- Cure Biotech
Our Address: Plot no 295, Indl. area phase -2, Panchkula- Pin- 134 109, Haryana (India)
Phone: +91- 90236- 39358
E-mail: hicurebiotech@gmail.com
Website: www.hicurebiotech.com