Best PCD Pharma Franchise in Haryana- Hi Cure Biotech is a pharmaceutical company based in Panchkula that deals in a wide range of pharmaceutical products. We are supported in our work by a committed team of professionals. We are looking for a Pharma PCD/Franchise for all of Haryana's districts.
Hi CureBiotech welcomes people from all over Haryana who are looking for a genuine pharma franchise. We are a leading pharma franchise company in India that provides pharma marketing services. Our company is an ISO-certified pharmaceutical company that is accepting applications for Best PCD Pharma Franchises in Haryana, including Karnal, Gurgaon, Rohtak, Hisar, Faridabad, Rewari, Kurukshetra, Panchkula, Yamuna Nagar, Jind, Sirsa, Kaithal, Panipat, and Sonipat. You'll find a wide range of DCGI-approved medicines for business use, including antibiotics, analgesics, multivitamins, antiviral, anti-infectives, and local anaesthesia, among others.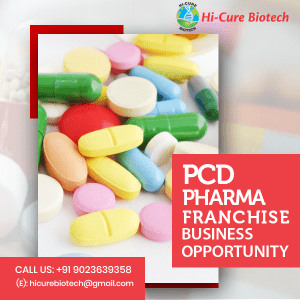 These are for a different market that is available for PCD franchise businesses with the promise of good growth. Haryana is near to India's hub, Baddi, and has a large population, which contributes to the rising demand for medicines. This is a good business destination for anyone looking to start a business in this area. We provide the Best PCD pharma franchise in Haryana to you with an excellent opportunity to demonstrate your salesmanship and start your own business also check Top Pharma Franchise Company In Panchkula
---
Hi-cure Biotech offered Best PCD Pharma Franchise in Haryana
Our company would like to invite people looking for a PCD franchise business from all over north India, especially Haryana. Exclusive rights to your territories will be given to you, along with the promise of a better tomorrow. The business will provide marketing updates and tool support. Our company often makes sure that locations are properly divided so that everyone gets an equal and larger share. We're looking for dedicated new members all over Haryana, so if you think you've got it, get in touch with us. Our company's service areas include the following:
Faridabad: Faridabad, Palwal, Nuh
Gurgaon: Gurgaon, Rewari, Mahendragarh,
Panchkula, Kurukshetra, Yamuna Nagar
Rohtak: Rohtak, Sonipat, Jhajjar, Bhiwani, Charkhi Dadri
Hisar: Hisar, Fatehabad, Sirsa, Jind
Karnal: Panipat, Karnal, Kaithal
---
Advantages of being part of Best PCD Pharma Franchise in Haryana 
Starting and running your own company is a difficult job. Especially if you've never worked in a company before. However, partnering with us for a PCD Pharma Franchise in Ambala is a major and profitable opportunity. We help you with all tested business strategies that will undoubtedly support your company. The benefits that you can get in your company are mentioned below.
Low-cost investment strategy.
Genuine financial planning.
Obtain the right to make business decisions.
Take command of your company and team.
Bonuses and attractive rewards
Promotional and marketing planning are provided for free.
A promising future greets.
Rights-based monopoly with Best PCD Pharma  Franchise in Haryana.
Before anyone else, take advantage of this incredible PCD Pharma Franchise opportunity in Haryana, Ambala, Gurgaon, Faridabad, Panipat, Hisar, and other nearby areas. Don't miss out on a fantastic business opportunity. This does not necessitate a significant financial investment; we will provide the required assistance. This is your opportunity to shine in the pharmaceutical industry. 
---
 Target Locations For Best PCD Pharma Franchise In Haryana

As a Best PCD Pharma Franchise in Haryana. We cover a wide region. You are welcome to join us in any of the following places. The best part is that we have good connections, which will assist you in developing market awareness. The following are some of the areas:-
Faridabad
Gurugram
Panipat
Ambala
Hisar
Karnal
Sonipat
Panchkula
Bhiwani
Yamunanagar 
Jind 
Rohtak
Sirsa
Bahadurgarh
Kaithal
Rewari
Palwal
Pundri
Kosli
Thanesar
---
Why Hi Cure Biotech As Best PCD Pharma Franchise In Haryana
Elite marketing rights with accepted monopoly plans.
Help for marketing materials and access to reward schemes.
Promotional strategies for new products and gift schemes.
Proposals for bulk product sales and customised pricing.
Monthly promotional programmes and additional advertising support.
Hi Cure Biotech is one of India's best PCD pharma firms, providing high-quality pharmaceuticals as well as marketing support. With the best packaging and marketing collaterals, it has a highly efficient distribution plan. If you're searching for the Best PCD Pharma Franchise in Haryana, you've come to the right place. 
---
Contact Us:
Name: Hi Cure Biotech
Address: Plot no 295, Industrial area phase -2, Panchkula-134109, Haryana 
Phone: +91-9023639358
E-mail: hicurebiotech@gmail.com