PCD Pharma Manufacturer- Hi- cure Biotech
Hi- Cure Biotech is Panchkula based company. We are a Third Party medicines Manufacturing Company. We provide PCD Pharma Manufacturer in India as well as all over India. We are an ISO certified company. Therefore,  We use WHO and GMP approved High quality products for our medicines. Hi- Cure biotech has 4 divisions of it.


Hi- Cure Biotech is the fastest growing  PCD Pharma Manufacturer in India. We provide business to small investors, help them to set their business and also provide them Monopoly business rights. They can earn their living and can be independently working in their own area.  A wide future scope is seen with Hi- Cure Biotech just because the Pharma industry is evergreen. Starting a pharma company will make you earn a handsome income and as per today's conditions, everyone wants to be in the pharma sector because it's working smoothly.
Reasons of Choosing Hi- Cure Biotech
Business with little initial investment . 
The rate of return is high in this business. 
Risk free business from all types of losses
highly profitable business
High quality merchandise with budget friendly costs
WHO and GMP verified products
Business with option to select own location 
Monopoly business rights- competition free business
On time delivery of orders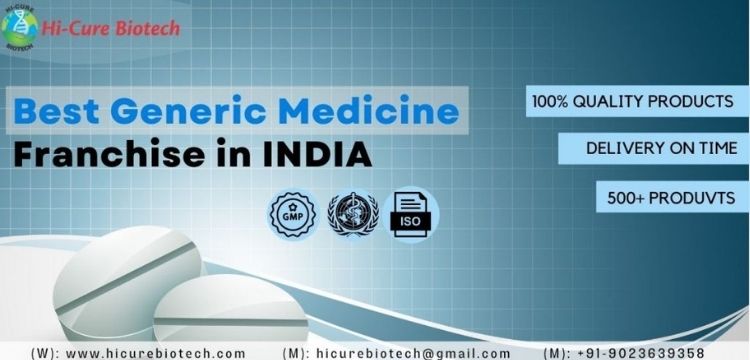 Best quality Products with best quality packaging (Alu Alu Packaging and Blister Packaging are our common packagings)
Monthly schemes as well as incentives 
Promotional gifts are: hampers, Vouchers, calendars, Product catalogue, T- Shirts, M R Bags, visiting cards, key chain, occasional gifts,annual gifts, etc..
Separate warehouses for producing medicines
Safe, secure and spacious warehouses.
100 % Transparent business policy
100% generic products with accurate medication quantity.
Multiple times tested products
Eligibility Criteria 
Firstly, you need to pass Senior secondary education with a science stream of 50% minimum marks.
Secondly, you need to have expertise within the sale of the company for approximately three to four years.
Thirdly, a valid and Legal "Pharmaceutical Licence" is an obligatory demand for the business start- up. 
A good investment 
You should know 5- 6 good practising doctors
Divisions of our company 
Hi- Cure Biotech
Zivi Herbals
DokCare Lifesciences
Inbiota Herbs

Target Places for Pharma Companies for Franchise in India
| | | |
| --- | --- | --- |
| Allopathic PCD Pharma Franchise Business in Punjab | PCD Pharma Franchise Business in Kerala | Allopathic  PCD Pharma Franchise company in Bangalore |
| PCD Pharma Franchise business in Hyderabad | Allopathic PCD Pharma Franchise company in Patna | Allopathic PCD Pharma Franchise business  in Andhra Pradesh |
| PCD Pharma Franchise company in Orissa | PCD Pharma Franchise company in Haryana | Allopathic PCD Pharma Franchise business in Madhya Pradesh |
| Allopathic PCD Pharma Franchise company  in Rajasthan | PCD Pharma Franchise company in Mizoram | Allopathic PCD Pharma franchise company in Jammu  |
| Allopathic PCD Pharma Franchise Business in odisha | PCD Pharma Franchise Business in West Bengal | PCD Pharma Franchise Business in Haridwar |
| Allopathic PCD Pharma Franchise company in Jharkhand | Allopathic PCD Pharma Franchise Business in Goa | Allopathic PCD Pharma Franchise business in Tamil Nadu |
| Allopathic PCD Pharma Franchise company in Uttarakhand | Allopathic PCD Pharma Franchise company in Chandigarh | Allopathic PCD Pharma Franchise company in  Kashmir |
| PCD Pharma Franchise business in Uttar Pradesh | Allopathic PCD Pharma Franchise business in Delhi | Allopathic PCD franchise company in Himachal Pradesh |

Product List of best Pharma Companies for Franchise in India
Our products are in the market are categorized as:
Tablets & Capsules Range
Syrups & Antibiotics Range
Nutraceuticals & Paediatric Range
Gynae products
PPI & GASTRO Range   
Mouthwash as well as Sachet Range
Cardiac products
Soft gelatin in addition to Gum Paint
Oral Paste & Softgel
Some known brands of our company in the market along with their composition:
Tablets
Astofen

Aoxy

Biocus

Azimo

ACECLOFENAC 200MG+ PARACETAMOL 325MG+ THIOCOLCHICOSIDE

AMOXICILLIN 500 MG + CLAVULANIC ACID 125 MG + LACTIC ACID

ZINC GLUCONATE 20 MG + PREBIOTIC 417 MG + FRUCTO OLIGOSACCHARIDE 25 MG

AZITHROMYCIN 200 MG

Capsules
C2 Cal

Astofen Cap.

CALCIUM CITRATE 1000 M + MAGNESIUM 100 MG + VITAMIN D3 200 IU + ZINC 4 MG

ACECLOFENAC 100 MG + PARACETAMOL 325 MG + CHLORZOXAZONE 250 MG

Injections
Hicam
PIROXICAM INJ
Syrups
Apro

Azimo Syrp

CYPROHEPTADINE HYDROCHLORIDE 2 MG + TRICHOLINE CITRATE0.275 GM

AZITHROMYCIN 500 MG

Powders
Biocus
PROBIOTIC STRAINS & PREBIOTIC (FOS) + ZINC 20 MG

Note : Our new division Vetnation Pharma which Works in the field of Veterinary and is known as the Best Veterinary PCD Pharma Franchise Company in India
Contact Information
Company Name: Hi- Cure Biotech
Our Address: Plot no 295, Indl. area phase -2, Panchkula- Pin- 134109, Haryana (India)
Phone: +91- 90236- 39358
E-mail: hicurebiotech@gmail.com
Website: www.hicurebiotech.com