Start your own Urology Range PCD pharma Franchise in India with Hi- cure Biotech
The pharmaceutical sector is growing rapidly in the urology range. Market study indicates that demand for urology drugs is anticipated to rise from $ 34 billion in 2018 to $ 56 billion in 2020. Also anticipated is a rise to $79 billion over the following three years.
Demand for Urology Range PCD pharma franchise in the industry is at an all-time high due to growing concerns over the urinary tract and male reproductive system. Ailments that affect the urinary tract's capacity to filter and excrete urine are referred to as urology illnesses. Benign Prostate hyperplasia, loss of bladder control, urinary tract infections, kidney stones, prostate cancer, bladder cancer, hematuria, painful bladder syndrome, prostatitis, and other urologic disorders are among the most prevalent urologic diseases.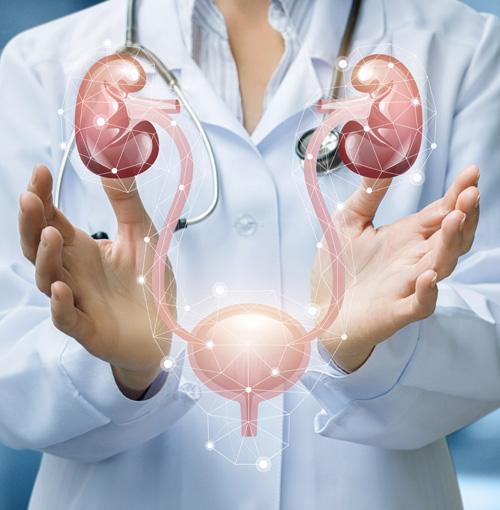 With formulae that exceed industry norms, urology medications have carved out a big market for themselves. Pharmaceutical businesses can develop urology tablets, urology capsules, urology injectables, urology syrups, powders for urinary infections, pharmaceutical sachets, and other urology formulations.
On-time delivery even for bulk orders.
Medically approved raw materials are only used to produce the entire medical range.
Distributorship is available across India on Monopoly basis.
Lower rates for great quality products.
Product List of Urology Range PCD pharma franchise in India
In India, Hi- Cure Biotech is ISO 2008:9001 certified. The medicines manufactured in our Company are verified as well as approved by the WHO, DCGI, along with GMP organisations. Therefore,  We manufacture the best medicines with high quality medications using accurate formulations. Therefore, that is widely known by our name in the medical industry. Our products are in the market are categorised as:
Tablets & Capsules Range
Syrups & Antibiotics Range
Nutraceuticals & Paediatric Range
Gynae products
PPI & GASTRO Range   
Mouthwash as well as Sachet Range
Cardiac products
Soft gelatin in addition to Gum Paint
Oral Paste & Softgel
Some known brands of our company in the market along with their composition:
Tablets
Astofen

Aoxy

Biocus

Azimo

ACECLOFENAC 200 MG + PARACETAMOL 325 MG + THIOCOLCHICOSIDE

AMOXICILLIN 500 MG + CLAVULANIC ACID 125 MG + LACTIC ACID

ZINC GLUCONATE 20 MG + PREBIOTIC 417 MG + FRUCTO OLIGOSACCHARIDE 25 MG

AZITHROMYCIN 200 MG

Capsules
C2 Cal

Astofen Cap.

CALCIUM CITRATE 1000 M + MAGNESIUM 100 MG + VITAMIN D3 200 IU + ZINC 4 MG

ACECLOFENAC 100 MG + PARACETAMOL 325 MG + CHLORZOXAZONE 250 MG

Injections
Hicam
PIROXICAM INJ
Syrups
Apro

Azimo Syrp

CYPROHEPTADINE HYDROCHLORIDE 2 MG + TRICHOLINE CITRATE0.275 GM

AZITHROMYCIN 500 MG

Powders
Biocus
PROBIOTIC STRAINS & PREBIOTIC (FOS) + ZINC 20 MG
Divisions for Urology Range PCD pharma franchise in India
Divisions of us in the Pharma market.
Hi- Cure Biotech
Inbiota Herbs
Zivi Herbals
Dokcare Lifesciences
Vetraise Remedies
Reomax Care
Hi- Cure rehab 
Eligibility Rules to work with Hi- Cure Biotech for Urology Range PCD pharma franchise in India
Rules in order to work with us.
First of all, Capital to expand the Urology Range PCD pharma franchise business in India.
Connection with good practising doctors.
Previous experience in the same field is mandatory to start Urology Range PCD pharma franchise in India.
A Pharma licence with a TIN number is required to start Urology Range PCD pharma franchise in India.
Contact us for Urology Range PCD pharma franchise in India or any other part of PAN India
So, If you want to get any details or enquire about the Urology Range PCD pharma franchise in India with Hi cure biotech or any other detail regarding Our company.
Company Name: Hi-Cure Biotech 
Our Address: Plot no 295, Indl. area phase -2, Panchkula- Pin- 134109, Haryana (India)
Phone: +91- 90236- 39358
E-mail: hicurebiotech@gmail.com
Website: www.hicurebiotech.com