About Hi- Cure Biotech
Hi- cure Biotech is a well-renowned Third-party manufacturing Company in India wholly involved in R&D, production, supply and trading of the solid and liquid form of pharmaceutical formulations like Tablets, capsules, powders, injectables and oral solutions requiring degrees of high-shear granulation, bi-layers, fluid-bed processing, and film coating. If you are looking for manufacturers who are indulged in integrated manufacturing can connect with us. We are also manufacturing products on customizations. Contact us at:
Company Name: Hi- Cure Biotech
Our Address: Plot no 295, Indl. area phase -2, Panchkula- Pin- 134 109, Haryana (India)
Phone: +91- 90236- 39358
Email: hicurebiotech@gmail.com

How to choose the best third party manufacturing company- Hi- Cure Biotech
Hi- Cure Biotech is the best ISO certified Pharma company as well as Allopathic best third party manufacturing company in India of Best Quality medicines. Therefore, we market and manufacture Allopathic, Ayurvedic & derma products. In short, Hi- Cure Biotech also provides business Opportunities on a Monopoly basis to the associates. Therefore, in monopoly business, they can run their pharma business without competition in their area. As a result, other members can start their business outside your area only. 
Firstly, Hi- Cure Biotech offers on time delivery of all the orders in the pharma market.
Secondly, a good range of attractive & free of cost promotional gifts is offered to associates working with us.
Thirdly, all the products belonging to our company bear a high profit margin. Thus, one can earn a smart income in business with us.
Eligibility Rules for start business with best third party manufacturing company
Firstly, Capital is required to expand the best third party manufacturing company
Secondly, Connection with some good practising doctors.
Thirdly, Previous experience in the Pharma field
Most importantly, Pharma Drug licence with a TIN number.
Strenuously Growth of the Pharmaceutical Industry 
The pharmaceutical industry is developing with a growth rate of more than 15% CAGR. The Indian Pharmaceutical industry is growing with a fast growth rate which is boosting the Indian economy too. Not only this, but India is also the largest manufacturer of generic drugs and exporting it to different parts of the world. With this rapid growth rate, it is assumed that India is soon going to be in the top 10 of the global markets. Associate with a versatile Third party pharma manufacturing company to start your franchise company.
Product List of best third party manufacturing company on monopoly basis in India
In India, Hi- Cure Biotech is ISO 2008: 9001 certified. The medicines manufactured in our Company are verified as well as approved by the WHO, DCGI, along with GMP organisations. Therefore,  We manufacture the best medicines with high quality medications using accurate formulations for the best third party manufacturing company in India. Therefore, that is widely known by our name in the medical industry. Our products are in the market are categorised as:
Tablets & Capsules Range
Syrups & Antibiotics Range
Nutraceuticals & Paediatric Range
Gynae products
PPI & GASTRO Range   
Mouthwash as well as Sachet Range
Cardiac products
Soft gelatin in addition to Gum Paint
Oral Paste & Softgel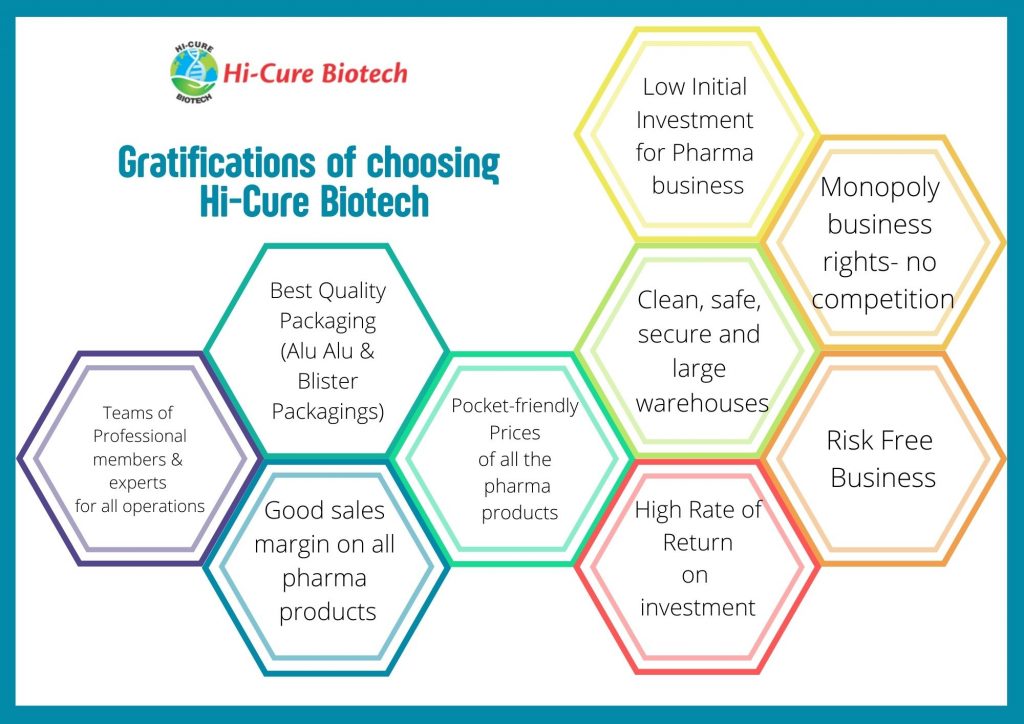 Some known brands of our company in the market along with their composition:
Tablets
Astofen

Aoxy

Biocus

Azimo

ACECLOFENAC 200 MG + PARACETAMOL 325 MG + THIOCOLCHICOSIDE

AMOXICILLIN 500 MG + CLAVULANIC ACID 125 MG + LACTIC ACID

ZINC GLUCONATE 20 MG + PREBIOTIC 417 MG + FRUCTO OLIGOSACCHARIDE 25 MG

AZITHROMYCIN 200 MG

Capsules
C2 Cal

Astofen Cap.

CALCIUM CITRATE 1000 M + MAGNESIUM 100 MG + VITAMIN D3 200 IU + ZINC 4 MG

ACECLOFENAC 100 MG + PARACETAMOL 325 MG + CHLORZOXAZONE 250 MG

Injections
Hicam
PIROXICAM INJ
Syrups
Apro

Azimo Syrp

CYPROHEPTADINE HYDROCHLORIDE 2 MG + TRICHOLINE CITRATE0.275 GM

AZITHROMYCIN 500 MG

Powders
Biocus
PROBIOTIC STRAINS & PREBIOTIC (FOS) + ZINC 20 MG
Contact Information
Contact Hi- Cure Biotech, if you want to get any details regarding How to choose the best third party manufacturing company in India or any other details regarding our company. 
Company Name: Hi- Cure Biotech
Our Address: Plot no 295, Indl. area phase -2, Panchkula- Pin- 134109, Haryana (India)
Phone: +91- 90236- 39358
Email: hicurebiotech@gmail.com
Website: www.hicurebiotech.com